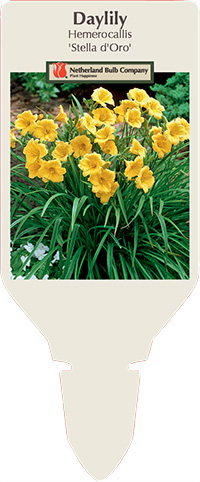 Photo © Netherland Bulb Company, Images may not be copied,
altered or reproduced without express written consent.
Daylily
Hemerocallis 'Stella d'Oro'
Mounds of arching leaves with taller flower stalks; an American garden staple.
This is by far the most popular Daylily selection of all time, because it performs so well in all zones, flowering for months on end. Forms a dense clump of grassy green foliage, with upright stems of fragrant, golden-yellow trumpet flowers. Early. Repeat bloomer. Compact habit. Excellent for massing, edging, borders or in mixed containers and tubs. Plants do not usually require dividing for several years, but are easily split apart in fall or early spring. Spent flower stems can be trimmed back after flowers are finished. Remove old foliage in late fall. Award winning.
Characteristics:
Bloom Time:
Blooms summer to fall
Mature Height:
10-12 Inches
Exposure:
Full Sun,Partial Shade
Features and Usage:






Greenhouse Growing Instructions:
Grow on at 60-68° F under high light conditions keeping evenly moist but never wet. Allow soil to dry some between watering. Once actively growing feed daylilies at 50-100 ppm N with each watering. Plants generally finish in 6-8 weeks based on growing conditions.
Plants Per Gallon: 1
Storage Temperature Prior to Planting: 28
Cooler Humidity Prior to Planting: Low
Transplanting Instructions:
Plant in well draining soil. Spread roots downward in pot leaving crown 1" below soil surface. If necessary long roots may be trimmed. Apply a broad spectrum fungicide according to directions to avoid crown and root rot.
Homeowner Planting and Maintenance Tips:
Easy to grow perennial that will get better with age.

Printed at www.netherlandbulb.com
© Copyright 2020 Netherland Bulb Company. All Rights Reserved.
13 McFadden Rd · Easton, PA 18045 · Tel.: 1.800.78TULIP