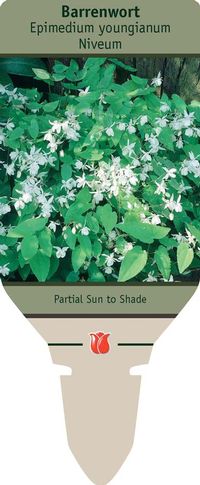 Photo © Netherland Bulb Company, Images may not be copied,
altered or reproduced without express written consent.
Barrenwort
Epimedium youngianum 'Niveum'
Pure white flowers on compact plants.
Barrenwort are superb shade-garden plants, excellent for edging or ground cover, and deserving much wider use in our gardens. In this selection, plants form a bushy mound of dark green leaves, bearing sprays of pure white flowers in mid to late spring. Although they will take a couple of years to reach a mature size, plants are long-lived and very sturdy. Old leaves should be pruned to the ground in late winter to show the flowers to best effect. Drought tolerant once established. Plants may be divided in early spring or late summer.
Characteristics:
Bloom Time:
Blooms spring
Mature Height:
8-12 Inches
Exposure:
Partial Sun,Full Shade
Features and Usage:





Greenhouse Growing Instructions:
Grow at 55-60° F keeping soil on the drier side until new growth appears. Provide 50% shade, and once actively growing, feed at 75-100 ppm N with each watering. Plants generally finish in 8-10 weeks based on growing conditions.
Plants Per Gallon: 1
Storage Temperature Prior to Planting: 38
Cooler Humidity Prior to Planting: Low
Transplanting Instructions:
Plant in well draining organically rich potting soil with a neutral to acidic pH. Handle carefully, keep crown of plant slightly below the soil surface and spread roots downward in the pot. Once planted, water immediately to settle the soil around the roots.
Homeowner Planting and Maintenance Tips:
Plant in moist, well-drained soil. This plant tolerates sun but prefers shade.

Printed at www.netherlandbulb.com
© Copyright 2022 Netherland Bulb Company. All Rights Reserved.
13 McFadden Rd · Easton, PA 18045 · Tel.: 1.800.78TULIP