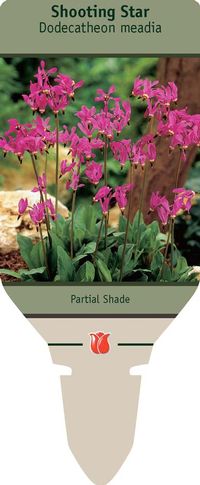 Photo © Netherland Bulb Company, Images may not be copied,
altered or reproduced without express written consent.
Shooting Star
Dodecatheon meadia 'Aphrodite'
PP14,002
Slender stalks topped with a cluster of lilac-pink reflex-petal flowers bloom above a compact mound of foliage.
Characteristics:
Bloom Time:
Blooms late spring to early summer
Mature Height:
10-12 Inches
Features and Usage:




Greenhouse Growing Instructions:
Grow at 55-65° F to promote root growth. Keep evenly moist allowing to dry slightly between watering. Provide 50% shade and once plants are actively growing move to 60° F to finish. Plants generally finish in 6-10 weeks based on growing conditions.
Plants Per Gallon: 1
Storage Temperature Prior to Planting: 38
Cooler Humidity Prior to Planting: Low
Transplanting Instructions:
Plant in well draining organically rich potting soil. Handle carefully, keep crown of plant at the soil surface with any sprouts above, and spread roots downward in the pot. Once planted, water immediately to settle the soil around the roots.
Homeowner Planting and Maintenance Tips:
Plant in rich, sandy, moist, well-drained soil in partial shade.

Printed at www.netherlandbulb.com
© Copyright 2020 Netherland Bulb Company. All Rights Reserved.
13 McFadden Rd · Easton, PA 18045 · Tel.: 1.800.78TULIP