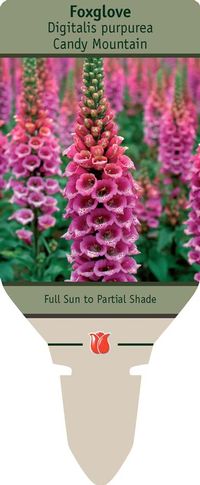 Photo © Netherland Bulb Company, Images may not be copied,
altered or reproduced without express written consent.
Foxglove
Digitalis purpurea 'Candy Mountain'
Basal leaves with tall spires of candy pink tubular flowers.
This is a unique selection of Foxglove, bearing tall spikes of glowing rose-pink bells, each with darker freckles on the inside, over a rosette of downy green leaves. Unlike other varieties, the individual flowers face upward so the effect is very colourful and showy. Attractive to butterflies and hummingbirds. Excellent in large containers. Acts as a biennial, flowering in the second year then setting seed and dying. These perform best in a rich, moist soil. Allow plants to form seed in the second year and they may self-sow to produce future generations. New seedlings that appear can be easily moved in their first season, while still small. Plants may need to be staked. CAUTION: Toxic if eaten.
Characteristics:
Bloom Time:
Blooms late spring to mid summer
Mature Height:
35-47 Inches
Exposure:
Full Sun,Partial Shade
Features and Usage:





Greenhouse Growing Instructions:
Grow on at 60-68°F under high light & long days to promote flowering. Proper water management is key for a successful crop. Keep evenly moist, never overly wet. Once actively growing, fertilize at every watering with 75-100 ppm N. Plants generally finish in 6-10 weeks based on growing conditions.
Plants Per Gallon: 1
Storage Temperature Prior to Planting: 45-60
Cooler Humidity Prior to Planting: High
Transplanting Instructions:
Plant in professional potting soil keeping crown of plant at same level it was in the plug. Once potted, water immediately and apply a broad spectrum fungicide according to directions to avoid crown and root rot.
Homeowner Planting and Maintenance Tips:
Easy to grow in well-drained soil in full sun or partial shade.

Printed at www.netherlandbulb.com
© Copyright 2022 Netherland Bulb Company. All Rights Reserved.
13 McFadden Rd · Easton, PA 18045 · Tel.: 1.800.78TULIP