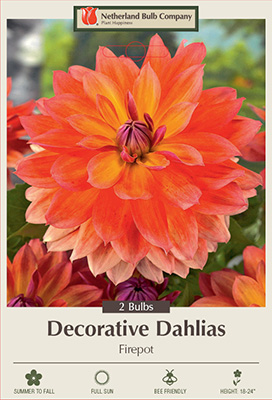 Photo © Netherland Bulb Company, Images may not be copied,
altered or reproduced without express written consent.
Dahlia Decorative 'Firepot'
Upright stems support a Dutch summer favorite that blooms all summer long.
Characteristics:
Bloom Time:
Blooms summer to fall
Features and Usage:




Greenhouse Growing Instructions:
Grow at 60-75°F. Water well while allowing to dry a little in between watering. Once actively growing, begin fertilizing twice a week at 200 ppm Nitrogen with 20-20-20. Pinch after two sets of leaves for better branching. Plants generally finish in 8-10 weeks.
Plants Per Gallon: 1
Storage Temperature Prior to Planting: 38
Cooler Humidity Prior to Planting: Low
Transplanting Instructions:
Plant in well draining professional potting soil; spread out tuberous roots within pot leaving crown just above the soil surface when watered in. Apply a broad spectrum fungicide according to directions to avoid crown and root rot.
Homeowner Planting and Maintenance Tips:
Easy to grow in moist, fertile soil in full sun.

Printed at www.netherlandbulb.com
© Copyright 2023 Netherland Bulb Company. All Rights Reserved.
13 McFadden Rd · Easton, PA 18045 · Tel.: 1.800.78TULIP