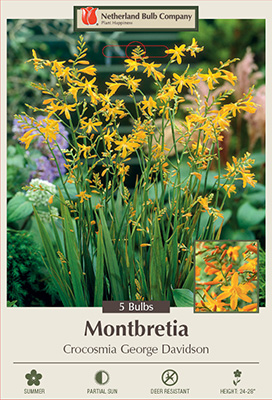 Photo © Netherland Bulb Company, Images may not be copied,
altered or reproduced without express written consent.
Montbretia
Crocosmia crocosmiiflora 'George Davidson'
Vibrant trumpet shaped flowers on arching stems with bold sword-like foliage.
Cousins to the gladiolus, these are hardy plants that produce clumps of green sword-shaped leaves, with tall, arching spikes of funnel-shaped blossoms appearing in mid to late summer. Several named varieties are now available, in a range of hot colours. This selection has large deep orange flowers with a mahogany throat, beginning in August. Outstanding cut flowers. Clumps should be divided every three years, in spring. Watch for spider mite and thrips on the foliage. In colder regions, the corms can be stored like gladioli, wintered in pots, or mulched heavily outdoors.

Characteristics:
Bloom Time:
Blooms summer
Features and Usage:





Greenhouse Growing Instructions:
Grow at 60-70° F under high light conditions. Keep soil evenly moist but not overly wet. Emerging foliage needs a consistent supply of water to thrive. Once actively growing, feed at 50-100 ppm N with each watering. Plants generally finish in 10-12 weeks based on growing conditions.
Plants Per Gallon: 3
Storage Temperature Prior to Planting: 38
Cooler Humidity Prior to Planting: Low
Transplanting Instructions:
Use a well draining professional potting soil and cover bulbs with 3-4"soil, water well.
Homeowner Planting and Maintenance Tips:
Crocosmia are easy to grow in partial sun.

Printed at www.netherlandbulb.com
© Copyright 2023 Netherland Bulb Company. All Rights Reserved.
13 McFadden Rd · Easton, PA 18045 · Tel.: 1.800.78TULIP