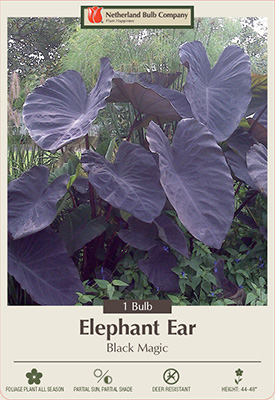 Photo © Netherland Bulb Company, Images may not be copied,
altered or reproduced without express written consent.
Elephant Ear
Colocasia 'Black Magic'
Incredible dusty purple-black foliage that resembles an elephant's ear.
Characteristics:
Bloom Time:
Foliage plant all season
Exposure:
Partial Sun,Partial Shade
Features and Usage:

Homeowner Planting and Maintenance Tips:
Colocasia, also known as Elephant Ear, makes a bold statement in any pond, bed, or patio container.

Printed at www.netherlandbulb.com
© Copyright 2023 Netherland Bulb Company. All Rights Reserved.
13 McFadden Rd · Easton, PA 18045 · Tel.: 1.800.78TULIP