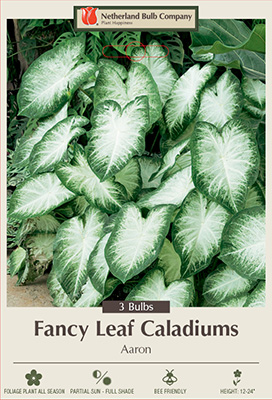 Photo © Netherland Bulb Company, Images may not be copied,
altered or reproduced without express written consent.
Fancy Leaf Caladium
Caladium 'Aaron'
Caladiums are grown for their showy leaves. In summer they produce clumps of long stalked, heart-shaped leaves.
Characteristics:
Bloom Time:
Foliage plant all season
Exposure:
Partial Sun,Full Shade
Features and Usage:

Greenhouse Growing Instructions:
Maintain temperature above 70°F even at night. For best results, water should also be 60-70°F, keep evenly moist at all times. Moderate light levels are optimal and no fertilizer necessary. Generally finish in 8-10 weeks based on growing conditions.
Plants Per Gallon: 1
Storage Temperature Prior to Planting: 65-70
Cooler Humidity Prior to Planting: High
Transplanting Instructions:
Use well draining potting soil with high organic content. If planting in 4 or 6" pots this variety can be "de-eyed" to increase leaf count and uniformity. Place bulbs flat side down with eyes facing up and cover bulbs with 1.5-2" of soil.
Homeowner Planting and Maintenance Tips:
Caladiums are extremely easy to grow in moist, well-drained soil. These shade loving but sun tolerant plants thrive in heat and humidity.

Printed at www.netherlandbulb.com
© Copyright 2023 Netherland Bulb Company. All Rights Reserved.
13 McFadden Rd · Easton, PA 18045 · Tel.: 1.800.78TULIP