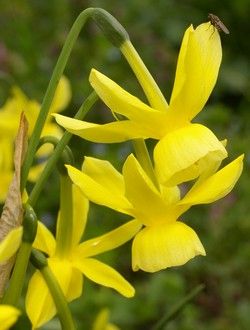 Photo © Netherland Bulb Company, Images may not be copied,
altered or reproduced without express written consent.
Narcissus
Narcissus triandrus 'Hawera'
Triandrus Narcissus boast multiple blossoms on each stem. Pair that with soft yellow flowers that resemble fuchsia blossoms and you have a one of the most interesting narcissus available. Hawera is also known for its wonderful fragrance. The blooms' graceful forms make outstanding cut flowers.
Characteristics:
Bloom Time:
Blooms mid spring
Mature Height:
6-8 Inches
Exposure:
Full Sun,Partial Shade
Features and Usage:





Homeowner Planting and Maintenance Tips:
Narcissus are easy to grow in well-drained soil in full sun to partial shade and are well known to be deer resistant.

Printed at www.netherlandbulb.com
© Copyright 2013 Netherland Bulb Company. All Rights Reserved.
13 McFadden Rd · Easton, PA 18045 · Tel.: 1.800.78TULIP