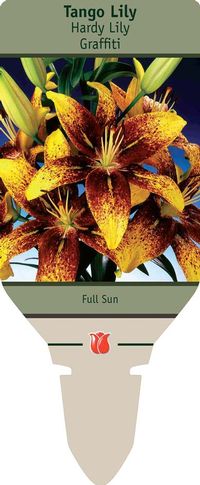 Photo © Netherland Bulb Company, Images may not be copied,
altered or reproduced without express written consent.
Tango Lily
Lilium Asiatic 'Graffiti'
Slender stalks topped with a cluster of spotted flowers.
Characteristics:
Bloom Time:
Blooms summer
Mature Height:
40-44 Inches
Exposure:
Full Sun,Faces in the Sun, Feet in the Shade
Features and Usage:


Greenhouse Growing Instructions:
Keep evenly moist once sprout breaks through growing medium. Grow at 55-60F night temperature.
Plants Per Gallon: 1 to 3
Storage Temperature Prior to Planting: 28
Cooler Humidity Prior to Planting: Low
Transplanting Instructions:
Fill pot with 1-2" of growing medium. Place bulb(s) deep in pot and finish filling with medium. If planting more than 1 bulb per pot, angle bulbs so top of bulbs are pointed towards the rim of the pot to allow for room for blooming plants. Roots will develop along the stem for a stronger plant.
Homeowner Planting and Maintenance Tips:
Plant in moist well-drained soil. Lilies prefer their feet in the shade and their faces in the sun.

Printed at www.netherlandbulb.com
© Copyright 2013 Netherland Bulb Company. All Rights Reserved.
13 McFadden Rd · Easton, PA 18045 · Tel.: 1.800.78TULIP