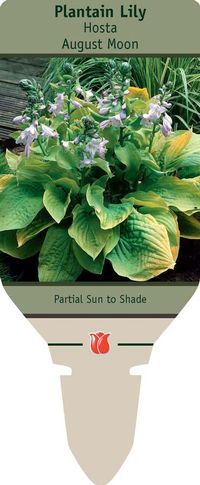 Photo © Netherland Bulb Company, Images may not be copied,
altered or reproduced without express written consent.
Plantain Lily
Hosta 'August Moon'
Chartreuse to gold corrugated heart shaped leaves with white-lavender flowers.
Characteristics:
Bloom Time:
Blooms summer
Mature Height:
24-36 Inches
Exposure:
Full Shade,Partial Shade
Features and Usage:

Greenhouse Growing Instructions:
Keep evenly moist but not overly wet.
Plants Per Gallon: 1
Storage Temperature Prior to Planting: 38
Cooler Humidity Prior to Planting: High
Transplanting Instructions:
Crown of plant should rest just at or above the soil surface after watering in.
Homeowner Planting and Maintenance Tips:
This shade loving perennial favorite is easy to grow in various soil conditions. This variety is slug resistant.

Printed at www.netherlandbulb.com
© Copyright 2013 Netherland Bulb Company. All Rights Reserved.
13 McFadden Rd · Easton, PA 18045 · Tel.: 1.800.78TULIP