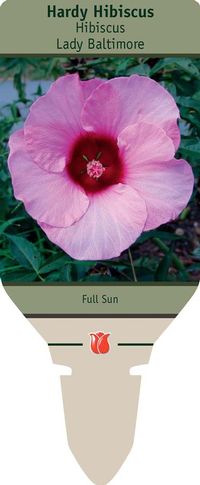 Photo © Netherland Bulb Company, Images may not be copied,
altered or reproduced without express written consent.
Hardy Hibiscus
Hibiscus 'Lady Baltimore'
6-8" delicate pink overlapping tissue paper petals with satiny deep red throat on compact shrub.
Characteristics:
Bloom Time:
Blooms summer to fall
Mature Height:
48-60 Inches
Features and Usage:


Greenhouse Growing Instructions:
In order for the plant to break dormancy, the air temperature must be above 63F.
Plants Per Gallon: 1
Storage Temperature Prior to Planting: 35
Cooler Humidity Prior to Planting: High
Transplanting Instructions:
Crown of plant liner should rest just at or above the soil surface after watering in.
Homeowner Planting and Maintenance Tips:
Plant in well-drained soil in full sun.

Printed at www.netherlandbulb.com
© Copyright 2013 Netherland Bulb Company. All Rights Reserved.
13 McFadden Rd · Easton, PA 18045 · Tel.: 1.800.78TULIP