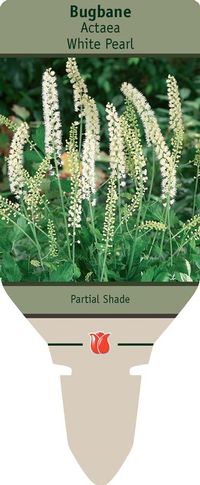 Photo © Netherland Bulb Company, Images may not be copied,
altered or reproduced without express written consent.
Bugbane
Actaea simplex 'White Pearl'
Graceful wands of fragrant bottle brush blooms supported by bushy, colorful, deeply veined foliage.
Characteristics:
Bloom Time:
Blooms late summer
Mature Height:
48-56 Inches
Features and Usage:




Greenhouse Growing Instructions:
Start out on the dry side until new growth appears, then keep soil evenly moist.
Plants Per Gallon: 1
Storage Temperature Prior to Planting: 38
Cooler Humidity Prior to Planting: High
Transplanting Instructions:
Plant the crown of the plant at or just below the soil level.
Homeowner Planting and Maintenance Tips:
Plant in the shaded woodland garden in humus-rich soil. Needs constant moisture in full sun.

Printed at www.netherlandbulb.com
© Copyright 2013 Netherland Bulb Company. All Rights Reserved.
13 McFadden Rd · Easton, PA 18045 · Tel.: 1.800.78TULIP